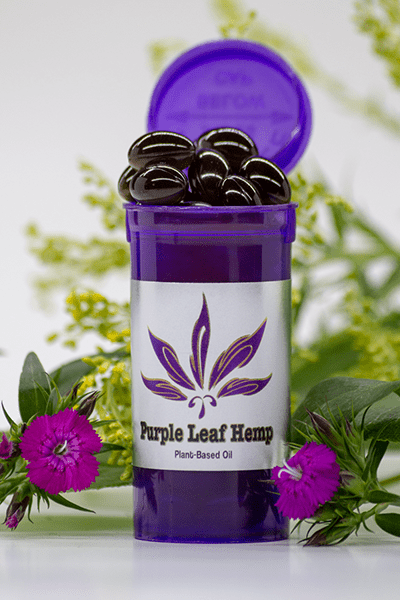 You will receive 30
500mg Kosher Softgels
Each Containing Between
10-15mg of Cannabinoid
plus Terpenes
Purple Leaf Hemp is Nevada State Certified and Licensed Hemp Handler. Every batch is tested for quality control and consumer safety.
     When my Mom was diagnosed with cancer we put her on a high B-17, no meat, no sugar diet and RSO (Rick Simpson Oil) but something was missing. There was something else she needed that I could not find. A reasonability priced plant-based oil chock-full of Cannabinoids and Terpenes, like a vitamin she could take in the morning to help regulate her Endocannabinoid System. Because of my experience and knowledge in the cannabis industry, I couldn't trust any of the hemp oil or CBD products currently on the market. I believed most, if not all of these types of products are not tested properly, did not use the correct hemp plants nor did I feel they listed proper dosages and serving sizes on the labeling.
     There were 1 or 2 companies I felt may have been adequate but the costs were so high our family just couldn't afford them. At that moment I decided to put my experience to use and start making my own. I had already been making the oil (main ingredient) for years and all that was needed was some ambition and time to put together what I believed was absolutely the best product for my Mom. Because time was so important I couldn't wait around for someone else to do it. I had to act quickly since we had no idea how fast her cancer could spread or if anyone else would be making this kind of quality controlled hemp oil.

     I decided it was time to start making this product available to anyone else who wanted it. It helped my Mom, and it didn't seem fair not to share it when I knew how beneficial it could be to so many people. This tragedy turned triumph was the inspiration behind the birth of Purple Leaf Hemp.
     Shanna Perry has been involved in the cannabis sector for many years from research and development to consulting on regulation and infrastructure. Also known as Shannabis, she is an expert in her field. For over 10 years, Shanna Perry has been entrenched in the American cannabis industry. A native of South Florida, Ms. Perry has lived and worked in West Palm Beach, Los Angeles, Denver, New York City, Las Vegas and has consulted globally.
     Known for her honesty, vitality, and passion for the cannabis industry. Her well-roundedness and education, coupled with her personal and professional experiences, are the cornerstones of SHANNABIS. Her list of success and accomplishments is surpassed only by her love of the industry, making her truly, one of the cannabis industries most valuable resources.
OUR FIRST CUSTOMER WAS A 80 POUND DOG NAMED GIBSON. THIS IS HIS OWNERS TESTIMONIAL AFTER 9 PURCHASED BOTTLES.
We lost Gibson today but I honestly believe his "Pot Pills" as we affectionately called them, helped extend his life and make him be as comfortable as he could be. Thank you for helping us do this.
THIS CLIENT IS A RETIRED VET OVER 55 YEARS OF AGE THAT SUFFERS from PTSD, PAIN, AND ANXIETY.
Shanna, my cousin has been using your product for about 3 days and keeps calling me and telling me how good he feels. He's also telling all his friends.
THIS IS A FEMALE CUSTOMER THAT WEIGHS 125 POUNDS AND HAS BEEN PRESCRIBED NARCOTICS MEDICATIONS FOR MANY YEARS…
I've been prescribed anxiety medication for over 6 years. I've taken your capsules once daily for almost a month. I've found that I prefer you capsules over my prescribed medication! I also have frequent back pains and these help with that too! My back pains went from 8/9 out of 10, to an easy 3 or 4!
ANOTHER ONE OF OUR SENIOR FURRY FRIENDS…
My 15 y/o Yorkshire Terrier, Gage was diagnosed with Vestibular Syndrome and having equilibrium issues. I ordered Purple Leaf XXX and have been treating him for a month now. During this time his episodes of Vertigo have gone from once or twice a week to once this month, and it was a much shorter episode.
While treating him, I dipped into his bottle for myself after a long day working as a longshoreman. I slept great and my back pain eased.
We are both now taking daily and are showing growing improvement the longer we take.
HUMAN TESTIMONIAL…
ONE OF OUR CLIENTS HAS A 12-YEAR-OLD SON DIAGNOSED WITH ADHD, ODD, SOCIAL ANXIETY AND BORDERLINE EMOTIONAL DISORDER. HE HAS BEEN TAKING OUR CAPSULES FOR OVER 4 MONTHS. THIS WAS HER TESTIMONIAL AFTER THE FIRST 30 DAYS. ADDITIONALLY, WE GAVE HIM A STORE BOUGHT URINALYSIS AND AT 80 POUNDS TAKING 1 CAPSULE PER DAY GAVE US A NEGATIVE RESULT.
He's back to school and so far so good. He's no longer taking 20mg of Focalin. Just his 10mg bump dose midday, which we hope to phase out.